Overview of Services
The Monash X-ray Platform (MXP) is an ISO 9001 certified, open access Technology Research Platform that provides advanced in-house X-ray based instrumentation as well as expertise, services and training in X-ray based material characterisation.
The MXP has a suite of in-house X-ray Diffraction (XRD), Small Angle X-ray Scattering (SAXS) and X-ray Photoelectron Spectroscopy (XPS) instrumentation available to Monash researchers, external universities, government agencies and industry.
These instruments include two Bruker D8 Advance Eco's and a D8 Advance with in-situ stage, environment chamber and capillary setup for phase ID or quantitative Phase ID, crystallite size-strain analysis and crystal structure refinement; a D8 Discover for texture/stress and grazing incidence diffraction; a N8 Horizon for small angle X-ray scattering and a ThermoScientific Nexsa X-ray Photoelectron Spectrometer for surface analysis.
The MXP is one of the largest in-house X-ray instrument facilities in Australia, supporting innovation across multiple disciplines, including in the design of materials for industrial, environmental and biomedical applications and development of green technologies and processes for energy production and mining. It plays an important role in educating and supporting students in materials characterisation and is a key complementary facility to the Australian Synchrotron and the Melbourne Centre for Nanofabrication (MCN), the Australian National Fabrication Facility's (ANFF) central node in Victoria.
Location and hours of operation
The MXP has two nodes, one in New Horizons and one in Chemistry:
New Horizon MXP Node:
G77 & G78 New Horizons
Monash University
Clayton Campus, VIC 3800
Access to MXP labs and instruments in New Horizons is during business hours only unless after-hours access has been agreed and provisioned by MXP staff.
Chemistry MXP Node:
G48, Building 23, 17 Rainforest Walk
Access to MXP instruments in Chemistry is during business hours only, however use of the autochanger allows samples to be run after hours.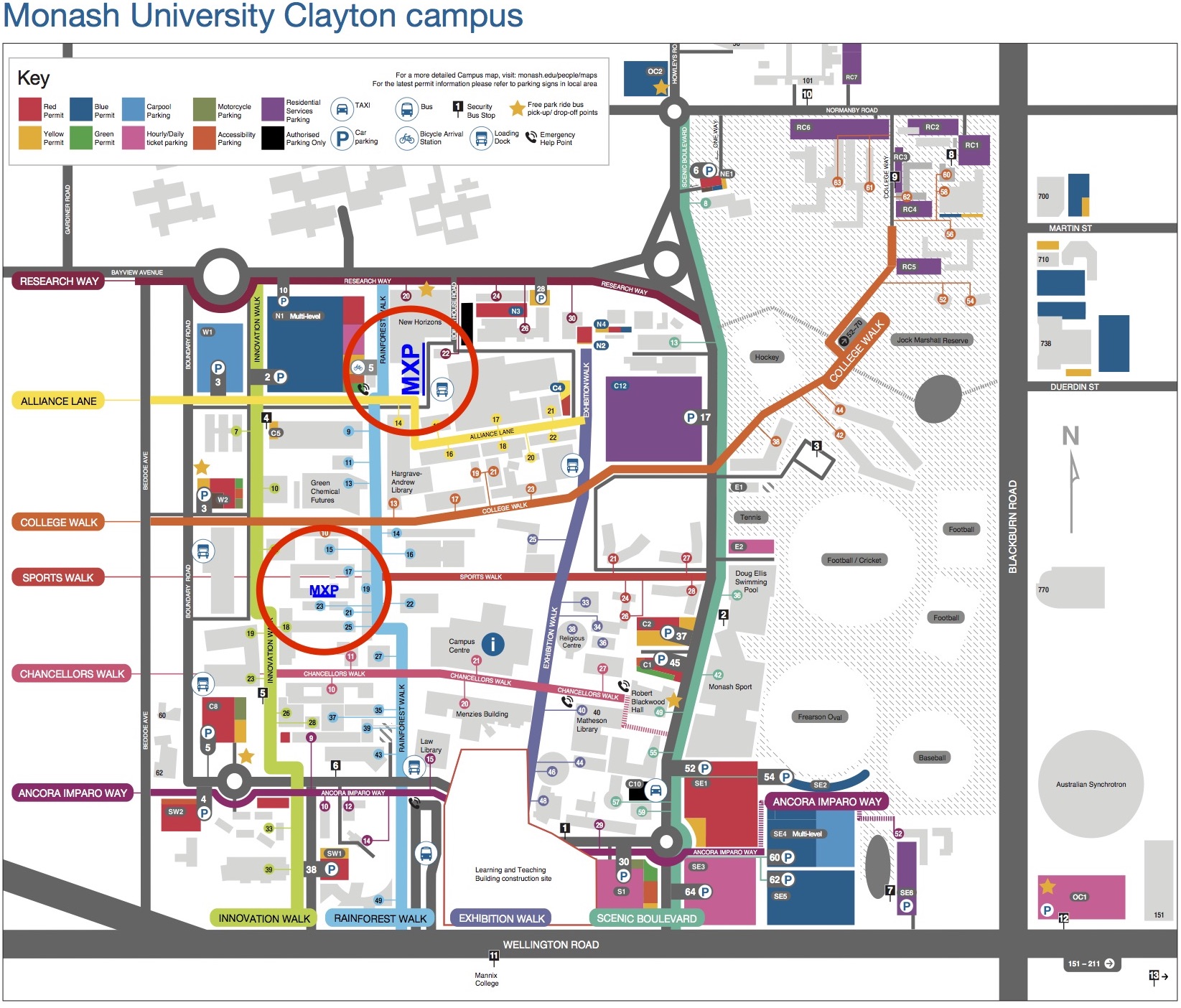 Available Equipment and Resources
| Name | Price |
| --- | --- |
| D8 Advance | |
| D8 Cobalt | |
| D8 Eco | |
| Nexsa Surface Analysis System  | |
| D8 Discover | |
| N8 Horizon | |
| D2 Phaser | |
| Database Computer 1 | |
| Database Computer 2 | |