Overview of Services
The Monash X-ray Platform (MXP) is an ISO 9001 certified, open access Technology Research Platform that provides advanced in-house X-ray based instrumentation as well as expertise, services and training in X-ray based material characterisation.
The MXP has a suite of in-house X-ray Diffraction (XRD), Small Angle X-ray Scattering (SAXS) and X-ray Photoelectron Spectroscopy (XPS) instrumentation available to Monash researchers, external universities, government agencies and industry.
These instruments include two Bruker D8 Advance Eco's and a D8 Advance with in-situ stage, an environmental chamber and capillary setup for phase ID or quantitative Phase ID, crystallite size-strain analysis and crystal structure refinement; a D8 Discover for texture/stress and grazing incidence diffraction; an N8 Horizon for small-angle X-ray scattering and a ThermoScientific Nexsa X-ray Photoelectron Spectrometer for surface analysis.
The MXP is one of the largest in-house X-ray instrument facilities in Australia, supporting innovation across multiple disciplines, including in the design of materials for industrial, environmental and biomedical applications and the development of green technologies and processes for energy production and mining. It plays an important role in educating and supporting students in materials characterisation and is a key complementary facility to the Australian Synchrotron and the Melbourne Centre for Nanofabrication (MCN), the Australian National Fabrication Facility's (ANFF) central node in Victoria.
Reminder: Please remember to acknowledge the MXP in all publications that use the platform
Placing "The authors acknowledge the use of facilities within the Monash X-ray Platform" in your acknowledgements section of any publications is adequate.
Workshops and courses
We run regular workshops and courses on X-ray Diffraction good experimental practice and data analysis. These courses can be counted towards Monash PhD's professional development training hours. Please complete the forms linked below to register your interest.
- Data Analysis Training Course : Zoom 9:30am-12:00pm Friday, 13 Jan 2023
- X-Ray Diffraction Principles and Good Experimental Practice Course
MXP New User Meeting (Zoom session): 3:00pm - 3:45pm Friday
MXP lab Induction (New Horizons labs): 10:00am-10:30am Monday
D8 Advance (Eco/Cobalt) practical training (Zoom session): 3:00pm-4:00pm Friday
Please contact jisheng.ma@monash.edu if you intend to join any of the above sessions in advance, as session can be canceled if no sufficient number of users to form a group.
MXP Slack channel
Have a quick question or need help in near-real-time? Try our new MXP Slack Channel.
Advice for Grant Applicants
If you are planning to submit a grant application for a research project that may require the MXP's capabilities, we encourage you to contact us to discuss how we can help.
For advice on how to include costs in your grant application budget, please contact us at Monash.Xray.Platform@monash.edu
Location and hours of operation
The MXP has two nodes, one in New Horizons and one in Chemistry:
New Horizon MXP Node:
G77 & G78 New Horizons
Monash University
Clayton Campus, VIC 3800
Access to MXP labs and instruments in New Horizons is during business hours only unless after-hours access has been agreed and provisioned by MXP staff.
Chemistry MXP Node:
G48, Building 23, 17 Rainforest Walk
Access to MXP instruments in Chemistry is during business hours only, however, the use of the autochanger allows samples to be run after hours.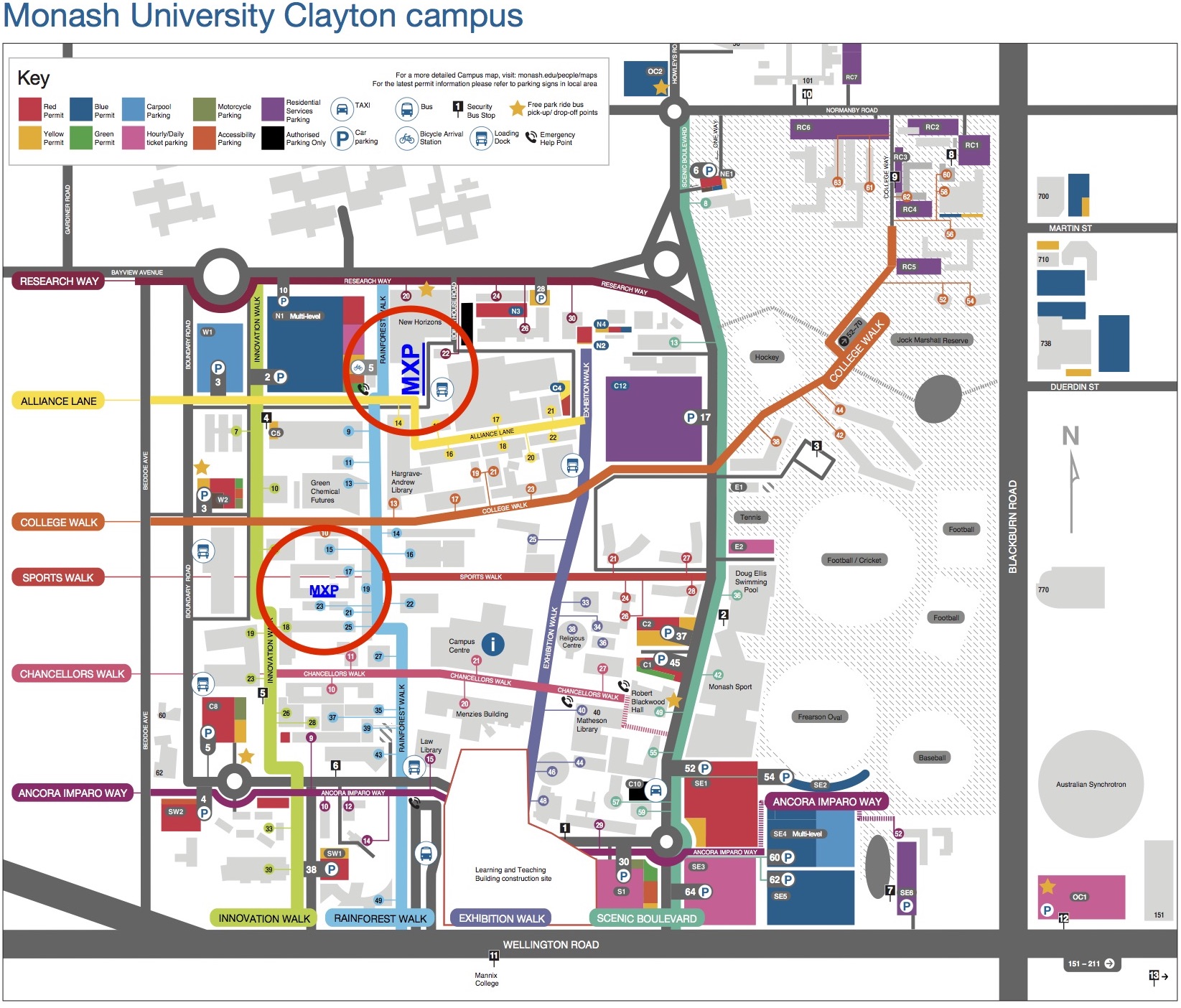 Search available services:

View: by category alphabetically
►

ARIN-API (7)
Name
Description
Price

In-Situ X-ray Diffraction (XRD) Service Request

The X-ray Platform can perform temperature and atmosphere controlled X-ray Diffraction on your material and the subsequent data analysis and reporting as a comprehensive, professional service to help you understand the crystal structure and phase transitions of your material in different environments:

Ambient to 1200ºC in air, inert gas or vacuum
-180ºC to + 450ºC under vacuum
Ambient to 1200ºC in capillary based transmission geomtery for liquid samples

The industries and research fields we regularly work with include:

Metals and alloys
Additive manufacturing
Pharmaceutical and drug development
Energy materials and storage
Building and structural materials
Food and dairy
Mining and minerology
Semiconductor
and many more...

Please visit our website for more information or submit an enquiry to see how we can help you today!

Inquire

Residual Stress Analysis Service Request

The X-ray Platform can perform X-ray Residual Stress Analysis on your metal, alloy or additively manufacturer part and the subsequent data analysis and reporting as a comprehensive, professional service.

Please visit our website for more information or submit an enquiry to see how we can help you today!

Inquire

Small Angle X-ray Scattering (SAXS) Service Request

The X-ray Platform can perform Small Angle X-ray Scattering on your liquids, solids, films, fibres, gels or pastes and the subsequent data analysis and reporting as a comprehensive, professional service to help you understand:

Particle size and size distribution of particles with specific shapes (eg. nanoparticles in solids, gels and liquids)

The orientation, size and size distribution of periodical structures (eg. crystal lamellae)

Identification of biological macromolecules based on their crystal structures

Dimensions on the order of 1 nm up to 100 nm can be investigated using our SAXS instrument and service

Please visit our website for more information or submit an enquiry to see how we can help you today!

Inquire

Texture Analysis Service Request

The X-ray Platform can help you investigate the distribution of crystallographic orientations in your metal, alloy or additively manufactured material as comprehensive, professional service.

Please visit our website for more information or submit an enquiry to see how we can help you today!

Inquire

X-ray Diffraction (XRD) Service Request

The X-ray Platform can perform non-destructive X-ray Diffraction on your material and the subsequent data analysis and reporting as a comprehensive, professional service to help you understand the following:

Material composition (crystalline phase identification)

Quantitative phase analysis

Crystallite size/strain

Material crystallinity

Lattice parameter determination

The industries and research fields we regularly work with include:

Metals and alloys

Additive manufacturing

Pharmaceutical and drug development

Energy materials and storage

Building and structural materials

Food and dairy

Mining and minerology

Semiconductor

and many more...

Please visit our website for more information or submit an enquiry to see how we can help you today!

Inquire

X-ray Diffraction Mapping

The X-ray Platform can perform X-ray Diffraction mapping on your bulk sample or wafer as a comprehensive and professional service.

Please visit our website for more information or submit an enquiry to see how we can help you today!

Inquire

X-ray Photoelectron Spectroscopy (XPS) and Integrated Surface Analysis Service Request

The X-ray Platform can perform X-ray Photoelectron Spectroscopy and/or a range of additional surface characterisation techniques on your material and the subsequent data analysis as a comprehensive, professional service:

X-ray Photoelectron Spectroscopy (XPS) – Quantitative elemental composition analysis and chemical and electronic state identification of elements at a materials surface

Ultra-violet Photoelectron Spectroscopy (UPS) - Valence band and work function measurements

Vacuum transfer module for air sensitive samples

Ion gun sputter depth profile analysis and surface cleaning of both soft and hard materials

Angle resolved XPS (ARXPS) – non-destructive information on the thickness and composition of ultra-thin films

Ion scattering spectroscopy (ISS) – Elemental composition of the outermost atomic layer

Reflected electron energy loss spectroscopy – electronic structure (e.g. band gap) measurements and hydrogen detection

XPS elemental mapping

The industries and research fields we regularly work with include:

Metals and alloys

Additive manufacturing

Pharmaceutical and drug development

Energy materials and storage

Building and structural materials

Food and dairy

Mining and minerology

Semiconductors

and many more...

Please visit our website for more information or submit an enquiry to see how we can help you today!

Inquire

►

Advanced Training (1)
Name
Description
Price

In-situ XRD Deben Microtester

Inquire
Available Equipment and Resources
Name
Price
D8 Advance
D8 Cobalt
D8 Eco
Nexsa Surface Analysis System

Training Sun-Sat 12:00 AM - 12:00 AM




Internal

$50.00 /hr




Academic External

$100.00 /hr




Self-use Wed-Thu 09:30 AM - 05:00 PM




Self-use Tue-Fri 09:30 AM - 05:00 PM




Self-use Mon-Tue, Fri 09:30 AM - 05:00 PM




Internal

$50.00 /hr




Academic External

$100.00 /hr




Overnight pumping-down (staff only) Sun-Sat 12:00 AM - 12:00 AM




Internal

$0.00 /hr



D8 Discover
N8 Horizon
D2 Phaser
Database Computer 1
Database Computer 2